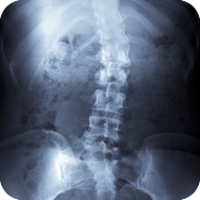 Chiropractic doctors practice natural, drugless, non-invasive health care and rely on the body's ability to self-heal. Sounds ideal, but just how does it work?
We look at the whole picture
Like other health-care providers, we follow a standard routine to gain information about the patient. We consult, review the case history, conduct a physical examination, and we may request laboratory analyses and/or x-rays. Unlike other health-care providers, however, chiropractic physicians also conduct a careful analysis of the patient's structure and pay particular attention to the spine. We also ask you about your life- Do you eat well? Exercise at all? How do you deal with stress? Do you have children? What do you do for work? And so on.
We seek the origin of the problem
Using this information, a diagnosis is made. Included in the diagnosis is the probable reason for your pain or discomfort. It is important to note that chiropractors seek the origin of the illness in order to eliminate it-we do not simply treat the symptoms. If your roof is leaking, do you simply catch the drips in a bucket for years on end, or do you repair the roof to prevent it from leaking? Similarly, if the migraine headache you've had all week is being caused by misaligned vertebra and an irritated nerve, do you continue to take pain killers indefinitely, or do you realign the vertebra to prevent the pain? You get the picture.
We fix the origin of the problem
Chiropractors have a term for misalignments: subluxations. A vertebral subluxation is a misalignment of the bones that protect the spinal cord. It's a leak in the roof. Or a kink in the wiring of your nervous system. The severity of the subluxation can vary, and there are a number of potential contributing factors that can be physical, emotional, mental, or chemical. The subluxation can be caused by any number of incidents, from birth trauma to an auto accident to simple repetition or over-use.
In this section, you will find articles on the mechanics of chiropractic care, its effects, and misconceptions.
Myths & Facts

Category: About Chiropractic Care, How Does it Work

Myth #1 - Chiropractors are not real doctors. A chiropractic college grants a D.C. or Doctorate of Chiropractic degree. Chiropractors are licensed as health care providers in every U.S. state and dozens of countries around the world. While the competition for acceptance in chiropractic school is not

Read more

Chiropractic Objective

Category: About Chiropractic Care, How Does it Work

What truly differentiates doctors of chiropractic from any other healthcare professionals is the fact that chiropractors are the only professionals who are trained to diagnose and treat what are called spinal subluxations. The word "subluxation" comes from the Latin words meaning "somewhat or slight"

Read more

Effects of Chiropractic Care

Category: About Chiropractic Care, How Does it Work

Wellness requires you to be a proactive agent for your body. You need to treat it well and not wait until you hurt before you decide to take care of it. As we've said before health is not merely the absence of disease any more than wealth is an absence of poverty. Let's remember health is not simply

Read more
---

Health Resources
The following resources have been assembled to provide you with more chiropractic wellness care information available on the internet.
American Chiropractic Association
www.amerchiro.org

Palmer University
www.palmer.edu

Foundation for Chiropractic and Education Research
www.fcer.org

Children's Chiropractic Research Foundation
www.icpa4kids.org

Journal for Vertebral Subluxation Research
www.jvsr.com

International Chiropractors Association
www.chiropractic.org

Chiropractic Resource Organization
www.chiro.org

Chiropractic Online Today
www.chiro-online.com

Chiroweb.com
www.chiroweb.com

World Federation of Chiropractic
www.wfc.org

The Association of Chiropractic Colleges
www.chirocolleges.org

World Chiropractic Alliance
www.worldchiropracticalliance.org

Today's Chiropractic Magazine
www.todayschiropractic.com

National University of Health Sciences
www.nuhs.edu

Life College of Chiropractic
www.life.edu

New York College of Chiropractic
www.nycc.edu