Mac the Martian is traveling to planet Earth to explore our world of health and wellness! You can help him learn through fun online quizzes, printable puzzles, and our wellness coloring book.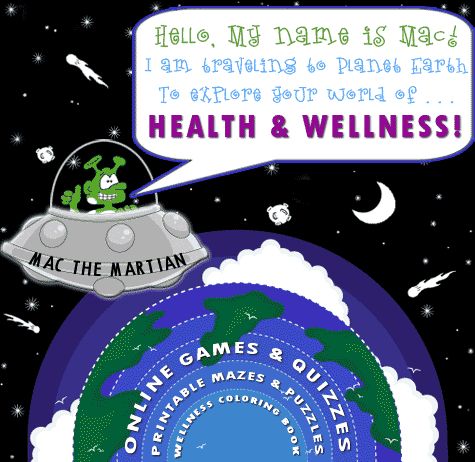 Wellness Coloring Book

Wellness In Space Cover Page Mac's First Visit Mac's First Adjustment Healthy Back Tips with Mac & Family Exercise Tips with Mac & Friends Mac's Healthy Lifestyle Certificate Download Entire Wellness In Space Coloring Book

Read more

Printable Games & Puzzles

Help Mac Find His Way to the Chiropractor! Help Mac Find His Way to a Healthy, Balanced Meal! Help Mac Find His Way to the Playground! A Visit to the Chiropractor Word Search Mac's Chiropractic Word Unscramble Mac's Cosmic Chiro Crossword

Read more
---

Health Resources
The following resources have been assembled to provide you with more chiropractic wellness care information available on the internet.
American Chiropractic Association
www.amerchiro.org

Palmer University
www.palmer.edu

Foundation for Chiropractic and Education Research
www.fcer.org

Children's Chiropractic Research Foundation
www.icpa4kids.org

Journal for Vertebral Subluxation Research
www.jvsr.com

International Chiropractors Association
www.chiropractic.org

Chiropractic Resource Organization
www.chiro.org

Chiropractic Online Today
www.chiro-online.com

Chiroweb.com
www.chiroweb.com

World Federation of Chiropractic
www.wfc.org

The Association of Chiropractic Colleges
www.chirocolleges.org

World Chiropractic Alliance
www.worldchiropracticalliance.org

Today's Chiropractic Magazine
www.todayschiropractic.com

National University of Health Sciences
www.nuhs.edu

Life College of Chiropractic
www.life.edu

New York College of Chiropractic
www.nycc.edu